---
SMSL TABEBUIA WAVECOR
* Brand new from S.M.S.L, I listened to these today and they sound absolutely incredible !!! 
 f Speakers 2 Way 100W 4Ω 88dB 56Hz-32kHz Black (Pair)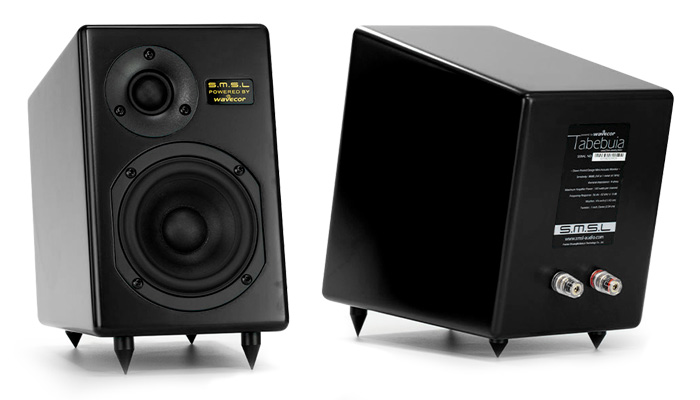 The Tabebuia are the first loudspeakers offered by the acclaimed and recognised SMSL brand. These compact bookshelf models include a tweeter and a woofer from Wavecor, a company specialising in speaker innovation and design. The Tabebuia can thus be integrated into your audio system to provide you with rich and precise sound reproduction.
The speakers are installed in a magnificent black box with rounded edges, giving the speakers a sober and modern look. Spikes underneath the speakers allow the latter to be coupled to their support to effectively evacuate vibrations.
Technical characteristics
SPECIFICATIONS
Product type
Bookshelf speakers
Sensitivity
88dB @ 1W, 1m, 1kHz
Impedance
4Ω
Max power handling
100W per channel
Frequency response
56Hz - 32kHz ±3dB
Woofer diameter
Ø11.43cm (4.5")
Dome tweeter diameter
Ø2.54cm (1")
GENERAL
Dimensions
Ø140 x 216 x 266mm
Weight
3.9kg